Digital.com's Rating for Hostwinds
Our Editor's rated Hostwinds 4 / 5 based on user ratings, pricing, and features offered.
Hostwinds: Quick Overview
Hostwinds is a web hosting company that boasts "enterprise solutions" at "small business prices" and customer service that is both personal and remarkable.
As a business owner, you have to make good decisions, quickly. That includes your selection of a web host. So let's find out if these brand promises hold true.
In this review, we will take an in-depth look at everything offered by Hostwinds so that you can make an informed decision as to whether the company's offerings are the right choice for your small business.
What Are the Pros and Cons of Hostwinds?
Cons
Hostwinds only has 2 U.S.-based data centers, so your site will not be as fast for visitors internationally.
You have to pay extra for SSL certificates, which many hosts provide for free.
Refunds have strict conditions and the money-back guarantee only applies to specific plans and services.
What Makes Hostwinds Stand Out?
Hostwinds fully controls all of their infrastructures, such as servers, systems, and structures, outright. There is no waiting on a middle man when it comes to their customers' ongoing hosting needs at Hostwinds. This allows them to pass these savings onto their much-appreciated hosting customers without paying an outrageous price for their hosting requirements.
Hostwinds takes care of most IT-related tasks for you, you will still get a proprietary cloud control panel for managing things like:
Managing your SSH keys
Rebooting your instance
Managing firewall systems
Hostwinds monitors its systems and network around the clock, and all managed VPS plans come with a 99.99999% uptime guarantee.
Operating Systems
Hostwinds offers support for Windows and Linux (CentOS, Ubuntu, Fedora, and Debian). Most users will be fine with one of the Linux options, though users who have built their websites/applications using Microsoft technologies will naturally opt for Windows on their server.
Faster Site Loading Speeds
These plans are basically shared hosting plans, but with better performance (Hostwinds claims you will see speeds up to 500% faster). The increase in speed is due to the SSDs (solid-state drives) included with all plans, the performance-optimized MySQL databases, the Litespeed web servers on which the sites are hosted.
Like the basic shared hosting option, there are three different plans from which you can choose. The one that is best for you depends on the number of domains you need your account to support.
Hostwinds Hosting Types
Hostwinds offers a variety of hosting options from which you can choose. In addition to entry-level shared hosting plans, the company provides options geared toward small businesses such as:
Let's take a closer look at these options.
Shared Hosting
Hostwind's shared web hosting plans are designed to get websites up and running with as little hassle as possible. While the hosting you receive won't be as performant as their other VPS and dedicated options, your plan will be all-inclusive at an attractive price.
Three Plans
As we previously mentioned, there are currently three different shared hosting plans from which you can choose. What it comes down to is how many domains you need your account to support — that will determine which package best suits your needs.
"Business Web Hosting" — Premium Shared Hosting
For those who are budget-conscious, yet need a higher level of web hosting performance, Hostwinds offers what it calls Business Web Hosting.
Unmanaged VPS Hosting
If you want full control over your hosting environment, you can opt for an unmanaged VPS hosting plan. In exchange for you doing all of the work needed to set up, manage, and maintain your environment, your plans will be slightly cheaper than the managed ones.
The unmanaged VPS plans come with Hostwinds' proprietary cloud management panel to help you carry out your server system administration tasks.
The managed and unmanaged VPS plans are almost identical (right down to the add-ons available and the uptime guarantee). The most significant difference is that, with the latter option, you are undertaking the system administration tasks yourself.
Dedicated Servers: For Enterprise Applications
If you want the best possible performance for your website, a dedicated server is for you. You get 100% of the resources on the server dedicated to your website — the downside, however, is cost.
For most small businesses, a dedicated server is overkill but for those with highly trafficked, resource-intensive websites (or have special security-related needs that preclude the sharing of a server), dedicated servers are a good option.
With a dedicated server, you have 100% control over everything, including all software installed and operating systems used.
Hostwinds' dedicated servers come with a 99.999% uptime guarantee and are fully managed, so you are not wholly responsible for its upkeep.
Cloud Hosting: Pay Only for What You Use
While it's not readily apparent on its website, Hostwinds does offer cloud hosting. This is an excellent option for growing businesses that want a customized environment and to pay only for what they use.
If you are interested in a distributed network (and all that comes with it, such as network redundancy and easy scalability), Hostwinds offers three different packages from which you can choose.
Unlike its more traditional hosting packages, Hostwinds bills its cloud hosting plans on an hourly basis.
Virtual Private Server (VPS) Hosting
If you need hosting for a resource-intensive or highly-trafficked website, you might be interested in Hostwinds' VPS hosting plans.
Hostwinds offers both Linux and Windows servers, and while Hostwinds pushes its managed VPS options, you can opt for an unmanaged option.
Managed VPS Hosting
Hostwind's managed VPS options are great for those who want to scale up from a shared hosting plan but do not want to perform the IT-related tasks that typically come with purchasing a VPS plan.
With the purchase of a VPS plan, you'll get:
Instant account setup and instant scalability at any time
Nightly backups
SSD storage (solid-state drives)
Free website transfers
Protection against distributed denial of service (DDoS) attacks
Choose From Four Packages
There are four base VPS packages from which you can choose:
1 CPU core, 1 GB RAM, 30 GB disk space, 1 TB/1 Gbps port
1 CPU core, 2 GB RAM, 50 GB disk space, 2 TB/1 Gbps port
2 CPU core, 4 GB RAM, 75 GB disk space, 2 TB/1 Gbps port
2 CPU core, 6 GB RAM, 100 GB disk space, 2 TB/1 Gbps port
If you need more than what is offered above, there are add-ons available.
Hostwinds Plans and Prices
Hostwinds Hosting Plan Features
Standard Features
Currently, there are three different shared hosting plans from which you can choose, but regardless of which option you pick, your plan will come with:
A free domain name
Unmetered bandwidth
Unlimited disk storage space
Free dedicated IP address
Free SSL certificates
Free website transfer/migration
cPanel control panel
Softaculous auto-installer
All shared hosting plans come with a 99.999% uptime guarantee.
Need a Website? Try the Site Builder
If you do not already have a website designed and built, you may want to consider Hostwinds' DIY site builder. Hostwinds bundles the Weebly site builder (a well-known brand) with all its shared hosting options.
Weebly is an easy-to-use, drag-and-drop website builder that comes with a robust feature set and the templates you need to get started.
Domains and Enterprise Email
If you are in need of a new domain name, Hostwinds offers domain registration services (shared hosting plans come with a free domain name). The company can help you register a new domain name, as well as transfer or renew an existing domain name.
Hostwinds also offers Enterprise Email Accounts, which is useful for businesses needing email accounts accompanying a domain name that they're already using. There are multiple plans available, and the option that is best for you depends on the number of email accounts you need.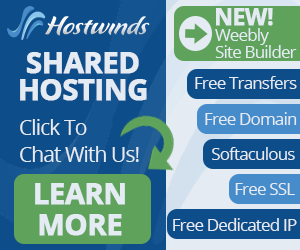 How Is Hostwinds' Performance and Uptime?
Hostwinds offers an extensive redundancy to deliver great performance and an exceptional 99.999% uptime guarantee.
Resolving network failures instantly with built-in redundancy.
They are adamant about keeping your service consistently available. They utilize several upstream providers, allowing them to select the optimal path out of their facilities. They implement several automatic failover systems, including automatic path rerouting, redundant switches, and redundant core routers.
They take special care to build numerous fail-safes to ensure in the event of a failure. Their service remains accessible by connecting their servers with two access switches. Then, they uplink all switches to multiple core routers, all of our equipment has redundant power supplies, and separate power feeds.
The fully redundant power distribution with each device connected to two separate power circuits ensures no single point of failure anywhere within their power distribution infrastructure.
How Does Hostwinds Keep Your Site Secure?
Hostwindshas three datacenters in Dallas, TX, Seattle, WA, and Amsterdam, NL. Each of their data centers is either a T4 or T3 rated facility, which involves a highly secure and certified environment. They provide 24/7 armed security, check-on stations at entrances, video surveillance, and 24-hour staffed network operations center. Their customers can relax knowing their hardware is safe and only touched by Hostwinds professionals.
Hostwinds enables AutoSSL for free on any Shared and Business Web Hosting accounts. We also provide RapidSSL certificates and WildCard SSL through GeoTrust for an additional cost.
Does Hostwinds Handle Site Backups?
Hostwinds' backup services include Web Hosting Cloud Backups which is additional features of their web hosting services. Its starting price is $3/month.  This gives you peace of mind and security, knowing that your data is safe.
This service is available for any Shared or Business web hosting service at Hostwinds to be added during the order process or by adding your service as an add-on service if you have already ordered your service.
How Is Hostwinds' Help and Support?
In short, Hostwinds is available to help you 24/7. If you have any questions, comments, or concerns, you can reach out via Live Chat (average response time: 30 seconds), calling in (average hold time: 10 seconds), or by opening a support ticket (average response time: 3 minutes).
For general support, you can consult the knowledgebase to see if there is information you might find helpful.
Refunds and Money-Back Guarantees
Hostwinds offers a 60-day money-back guarantee, though you will receive a full refund only if you cancel during the first 30 days. If you cancel anytime during days 31-60, you'll receive a refund for that month only.
Support for Specialty Software
If you are in the market for hosting solutions for CPV Lab and WordPress, read on for our notes on what Hostwinds offers for these two products.
CPV Lab
CPV Lab is a self-hosted tool that you can use to track and optimize your marketing efforts. While other providers support CPV Lab (such as A2 Hosting), Hostwinds is the only CPV Lab-approved hosting provider.
WordPress
Hostwinds offers a page geared toward WordPress users, but it doesn't appear that these hosting options are any different from the shared hosting plans.
What Are Some Good Alternatives For HostWinds?
Hostwinds is a solid, all-around web hosting provider that offers full-featured, entry-level options that do not break the bank.
If you ever find that you've outgrown your hosting plan, you can easily upgrade to one of the company's more premium options.
Most importantly, the company offers quality customer and technical support, so you can rest assured that someone will be around to help whenever you need it.
However, there is no host that is the best fit for everyone; if you are interested in alternatives, consider SiteGround, A2 Hosting, or HostGator.
Visit Hostwinds for Plans and Pricing
Who is Hostwinds the Company?
Hostwinds was founded in October 2010 by Peter Holden to provide small business owners with low-cost web hosting solutions backed by superior service and support.
Over time, Hostwinds has grown considerably. The company serves thousands of customers and its primary offices are in Tulsa, Oklahoma. Its datacenters are in Dallas, Texas, and Seattle, Washington.
Frequently Asked Questions About Hostwinds
Here are a few of the most common QAs on Hostwinds. We hope these help you narrow your search.
Does Hostwinds offer any unmanaged plans when it comes to their premium hosting options?
While most of Hostwinds' plans are managed (which is in line with the company goal of providing easy-to-use products), Hostwinds does offer some unmanaged VPS plans.
Do I get a site builder with my hosting plan?
While Hostwinds does not offer its own site builder, Hostwinds has partnered with Weebly to offer site-building tools to all its shared hosting users. You can
read more about Weebly
in our review of the site builder.
Does Hostwinds offer any type of refunds or money-back guarantee?
Yes,
Hostwinds offers
a (modified) 60-day money-back guarantee. If you cancel within the first 30 days, you'll receive a full refund, but if you cancel after this period, you'll receive a prorated refund.