Want a simple way to get your website up and running quickly? HostMonster streamlines the process. This makes HostMonster an appealing option for anyone with little to no experience in running a website.
HostMonster Hosting Features
The HostMonster customer experience begins with selecting a shared hosting option. Shared hosting is suited for smaller sites and means your site and several others are managed on a single server.
For those new to web hosting or HostMonster, there was a great demo account that you can use to check out the services on offer. This included a guided walkthrough of a typical HostMonster account, including instruction on how to set up your email service, create your website and manage your account and domains.
Need Web Hosting?
If you're launching a new site or just looking for a new web host, check out one of our top hosting providers:
What Are the Goods?
However, it seems that HostMonster has discontinued this feature in recent months. As much as I was sad to see this feature go, there are still plenty of hosting features.
The top hosting features from HostMonster include:
Unlimited disk storage
Unlimited domain hosting
Unlimited add-on domains
Unlimited parked domains
Free drag-and-drop site builder
cPanel
FTP access
Secure Shell Acces
Hotlink Protection
Secure email support
It is important to note that some of the features may vary based on the plan you choose. Below, we look at some of the most popular hosting features in more detail.
Easy-to-Use Control Panel
When you sign up, you manage your account with a modified version of the popular cPanel (your control panel). This is structured in a user-friendly way and designed to make it easy for beginners to start building their website.
The control panel interface is split into hosting, domains, add-ons, and account tabs, with appropriate sub-tabs to find what you need.
The Interface is Intuitive
The footer of the page is split into a helpful getting started section, a product section if you want quick links to additional products to buy, a support section, and a company information section. The hosting tab also includes a link that opens the traditional cPanel layout for those with a bit more experience.
You can add email accounts linked to your domain directly from the cPanel. If your domain is www.example.com, you can configure [email protected] to create a professional business email.
Free Domain Names
There are several low-cost plans, each scaling to meet different hosting needs, from small to medium to large sites. Each plan gives you a domain name if you are a first-time user. The domain name is free for the first year.
How Does the 30-day Money-Back Guarantee Work?
The 30-day money-back guarantee period offers convenience should you need to cancel. Some additional options are not included in the guarantee.
For example, if you did take the free domain name, if you then cancel your account within the 30-day money-back period, you will get the hosting charges back, but the domain name will incur a charge that is usually larger than the cost of the initial hosting period.
Extras to Make Set-Up Easier
After you have finished signing up, you are provided with some quick and easy options to get your site up and running. This includes free DIY site builders, a one-click WordPress installer, and an instant account setup.
HostMonster Alternatives
Most Popular HostMonster Alternatives
Starts at: $2.75 / mo
(Billed as $2.75 Per Month)
Usual price: - Get % off!
Starts at: $2.59 / mo
(Billed as $2.59 Per Month)
Usual price: - Get % off!
Starts at: $3.95 / mo
(Billed as $3.95 Per Month)
Usual price: - Get % off!
Need a Website? Check Out the HostMonster Site Builder
When you run a small business you're a jack of all trades. You will likely be building your own site. Even if you've never put a website together, a site builder makes this process easy.
What is a Website Builder?
Website builders allow you to drag elements like images and text boxes from a menu and drop directly onto a page.
It's also a visual interface —  you can see exactly how your site will look as you're building it.
Launch a Site Fast
They come with pre-built websites designs so with a few clicks you've got a functioning website that looks like it was professionally designed.
No coding is needed. You just need to add your content and logo, and any customizations (e.g. different fonts, colors, sections) you like.
Concrete5: Open Source Site Builder
Concrete5 is one of the available site builders. This is a popular open-source content management system that allows you to quickly build your site using a drag-and-drop builder.
It also comes with a standard user permissions structure to manage access to your site, so if you have a team that is developing it, you can control who can and cannot make changes to your site. Furthermore, Concrete5 is optimized for search engines, so it will help your site performance out of the box.
Weebly Website Builder
The Weebly site builder is also available, but if you want anything more than the basic version you will have to pay an additional charge to use it. Like Concrete5, Weebly is optimized for search engines.
It uses a drag-and-drop builder and comes with a variety of modern designs to give you a place to start with your site. The basic version only allows up to six pages on your site, so you will need to upgrade to use it for larger sites. It also charges a fee for every transaction on your site, unless you upgrade to the professional version.
Weebly offers several responsive and professional business themes with its free plan.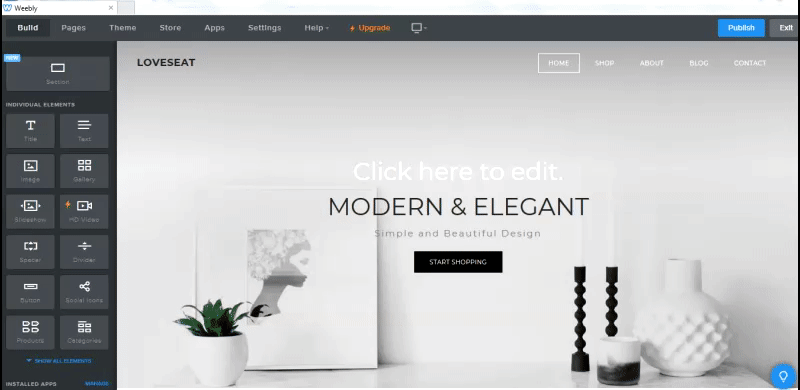 What Type of Customer Support Does HostMonster Offer?
As a small business site owner, if something goes wrong, you need to know your web host can solve the problem quickly.
The HostMonster support available to its customers includes a 24/7 telephone support line to the technical team. There are additional phone lines for billing, sales, terms of service compliance and verification. Each of these support channels is also available for live chat.
Compare Popular Web Hosting Plans
Need a great web host? Want to save some time? This shortlist is your best place to begin:
Popular Host Choice for 2021

BlueHost

Dreamhost

SiteGround

A2 Hosting

GreenGeeks

Hostinger
How Does the Support Knowledgebase Rank?
HostMonster also provides well-resourced knowledgebase, and this is where the company really shines. There are over 500 searchable articles to help you find any information you need.
The articles are well-written, clear and concise and a great source of information for customers who want to get the best out of their site. Some articles also come with video guides and this is perfect for anyone who wants to be as self-sufficient as possible.
Support Tickets
Finally, you are also able to submit a support ticket and more importantly, you can view the ticket history. This allows you to monitor the progress of any support issue you file.
Being able to keep track of your support queries allows you to have peace of mind in the midst of solving issues.
HostMonster Community Online
There is a HostMonster Facebook page, a Twitter account, and a Google Plus page, but these channels seem relatively inactive. There is also a user forum where you can ask for advice and interact with the HostMonster community.
Secure Support With a Validation Token
To ease security concerns, HostMonster uses a validation token generation system when they speak to their customers. This is a short number that can be generated when you are logged into your account, or by using a suitable authentication application on your mobile phone, such as Google Authenticator.
This means that the HostMonster team can ask someone to generate a validation token and quickly verify that they are talking to a real customer and not someone who has managed to acquire your personal details and is pretending to be you.
The validation token is a great idea for maintaining your account security. Validation token technology is often used by mobile banking services and it's unusual to find it as part of a hosting service.
Need Help With Site Migration?
Beyond the basic support, there are some additional services that you can purchase. These include a migration service that will migrate up to 5 sites and 20 email accounts to your new hosting account.
As part of this service, HostMonster will review your sites for you, before they go live.
Small Business Support: Marketing and SEO Tools and Services
As a small business, you must optimize your website so potential customers can find you online.
Pay-per-Click (PPC) Advertising Done For You
A pay-per-click (PPC) marketing service is available. You select the appropriate keywords for your site and they run the ad campaigns for you. This could be a time-saver since learning how to run online advertising can be time-consuming.
Search Engine Optimization (SEO) Tools
HostMonster offers an SEO report that provides an overall score calculated by an algorithm that, they say, considers everything that contributes to SEO.
The SEO report covers the following nine topics:
Visitors: How many people visit your site
Site Review: Tracks technical issues, such as long load times or missing SSL certificates
Ranking: How often your site shows up on major search engines for your keywords
Competitors: How well you rank for key terms compared to your competitors
SEO-friendliness: checks site structure, titles, links, and metadata
Content quality: Provides tips for higher-quality content
Mobile-friendliness: How well your site performs on mobile devices
Popularity: Calculated by the number of backlinks.
Social media shares: The number of times your site has been shared on social media
If you are very familiar with digital marketing, the lack of transparency on how some of the scores are calculated will likely frustrate you. In that case, you are better off sticking with the marketing tools you know and love. However, if you are new to SEO, the report is a useful feature.
Easy to Install E-commerce Features
HostMonster provides access to a series of site scripts through the Mojo marketplace and many of these scripts include a one-click installation process. Scripts such as Drupal, Joomla, and Moodle are available through the marketplace.
E-commerce features are supported and this includes:
SSL Secure Server
osCommerce
Zen Cart
Video streaming services
Audio streaming
Custom MIME services.
If your site has already been built, you can use FTP to upload the site files to the Hostmonster servers. FileZilla is listed as a partner on the Hostmonster site and this is a useful FTP transfer application if you need to move your files.
Need Web Hosting?
If you're launching a new site or just looking for a new web host, check out one of our top hosting providers:
Website Security: How is it Handled?
HostMonster offers Hotlink Protection, SSL support, SiteLock lite, SSH Access, and Spam Assassin email protection.
There is a "Site Doctor" service to help get rid of viruses and restore site backups. This service offers a money-back guarantee if they are unable to fix your problem.
Are There Regular Backups?
Yes. You'll get courtesy site backups, so if a serious problem does occur you will have the ability to quickly get your site up and running again. Site backups take place on a daily, weekly and monthly basis.
HostMonster recommends that you download the backup files regularly to make sure you have access to them whenever you need them. How often you do this is at your decision. It is further recommended that you download backup files before you make any changes to your site.
What's Site Backup Pro?
Purchasing the Site Backup Pro add-on makes backups an easy task. (Purchase the add-on through the HostMonster account management tool.)
Technical Details: Operating Systems, Languages, and more
Shared hosting with HostMonster comes on a Linux based operating system. MySQL, PostgreSQL databases, and database servers are supported.
The available programming languages include:
Perl
PHP
Python
Ruby
JavaScript
Flash Shockwave
Speeding up Site Loading: Cloudflare CDN
Cloudflare is a content delivery network (CDN) available as an add-on. CDNs are used to speed up your site loading time by using servers that are geographically close to each website visitor.
Website Disk Space and Loading Speeds
How many times have you left a site because it was taking too long to load? As a small business, you need a fast and reliable website.
If your hosting plan does not offer enough bandwidth,  your business' site will load slowly – a frustrating experience for your customers.
Unmetered: What Does it Really Mean?
HostMonster offers hosting packages with unmetered disk space and bandwidth (the amount of data the server can transfer over a given period). Unmetered means you are not billed according to the bandwidth or disk space you use. While HostMonster (and many web hosts) refer to packages with unlimited disk space, their terms state "these resources are not infinite".
But as a small business site, it is unlikely you will exceed the space or data transfer. HostMonster reports 99.95% of its customers to have enough bandwidth and disk space.
Alternative Hosting Packages: VPS, Dedicated Servers, and Affiliate Packages
The primary focus of the HostMonster hosting options is shared hosting. Hidden away in the footer of the site are options for VPS (Virtual Private Server) and dedicated server hosting.
These are options for sites with high traffic, such as busy small business websites or popular blogs.
HostMonster can scale up its services if your site grows beyond the capabilities of the shared hosting plan you initially sign up for. The free domain offer is still available with these packages and each package above the lowest level comes with 2 IPs.
HostMonster Alternatives
Most Popular HostMonster Alternatives
Starts at: $2.75 / mo
(Billed as $2.75 Per Month)
Usual price: - Get % off!
Starts at: $2.59 / mo
(Billed as $2.59 Per Month)
Usual price: - Get % off!
Starts at: $3.95 / mo
(Billed as $3.95 Per Month)
Usual price: - Get % off!
Virtual Private Server (VPS) Cloud Hosting
VPS hosting comes in four different packages, offering dual-core, triple-core and quad-core processors, with RAM, data, and bandwidth scaling up accordingly.
The VPS hosting makes use of cloud technology and comes with an enhanced cPanel, including a multiple account management feature. The VPS hosting runs the CentOS operating system and permits root access to the server.
Like the HostMonster shared hosting, the VPS hosting is instantly provisioned, so as soon as you finish signing up, your VPS server is ready for you to use.
Dedicated Server Hosting
The top-end hosting service offered by HostMonster is dedicated server hosting. There are three plans and each offers 1 server with 4 cores and 8 threads.
The servers use Intel Xeon Processors and the hosting plans scale up what you get in terms of the number of cache resources, data, bandwidth, RAM, and IPs. Like the VPS hosting, you get a free domain for a year and the dedicated server runs CentOS.
Dedicated server hosting packages come with:
Root access
Enhanced caching
Mirrored RAID 1 storage
An enhanced version of cPanel
| | | | | |
| --- | --- | --- | --- | --- |
| Feature | Root Access | Enhanced Caching | Mirrored RAID 1 Storage | Enhanced cPanel |
| What does it do? | The ability to have access to the root of your device, enabling you to run core commands and manual control. | Reads and re-writes data from the fastest access points. It also writes data in the most efficient way possible. | Replication of the data in the forms of mirrored copies in case of damage, where the mirrors can be used to access data. | Full cPanel functionality with increased upper limits. |
Again, you get instant access to your server as soon as you sign up. Unlike the other hosting options, with dedicated server hosting, you are provided with a dedicated support line. Your server is monitored 24/7 and HostMonster utilizes KVM and OpenStack tech to continually upgrade and enhance your server.
Affiliate Program: A Way to Earn Rewards
Finally, HostMonster runs an affiliate program that rewards you every time you refer a client to its services, but only if they sign up for one of the web hosting plans.
Compare Popular Web Hosting Plans
Need a great web host? Want to save some time? This shortlist is your best place to begin:
Popular Host Choice for 2021

BlueHost

Dreamhost

SiteGround

A2 Hosting

GreenGeeks

Hostinger
How Does HostMonster Stack up Against Bluehost and HostGator?
We compared HostMonster (Plus), Bluehost (Plus) and HostGator (Business Plan).
All plans offer unmetered bandwidth and 24/7 support.
While HostMonster offers a 99% uptime guarantee, it is the only host not to include a free domain. HostMonster's plan includes site back-ups giving it an edge over BlueHost.
Endurance International (EIG) Ownership
HostMonster has been offering web hosting since 1996 and was set up as a sister site to BlueHost. Like BlueHost, it was acquired by the Endurance International Group (EIG) in 2010.
The EIG (previously known as Bizland) is one of the largest web hosting organizations in the world. It employs over 4,000 staff and provides services to over 5 million customers. The organization's headquarters are based in Burlington Massachusetts, USA, but it runs data centers across North America, South America, Europe, and Asia.
Since its founding in 1997, EIG has acquired at least 80 smaller web hosting brands, including some that have been dissolved or merged with another brand. Since HostMonster was one of their larger and more well-known acquisitions, it has retained its own branding.
What Does This Mean for Host Monster Customers?
On the surface, HostMonster appears to be its own brand, but in reality, its servers are run and maintained by the EIG.
This means that its customers will interact with the HostMonster company, but technical support services are more than likely to be provided by EIG, which can have a positive and negative effect on the support a customer would receive.
The hosting servers will be shared by other sister brands under the EIG organization. This means that there will be a greater number of technical support workers available to address any problems that arise.
However, they will also need to be available to more customers. Should a major issue arise, it will probably affect multiple brands and more customers. But, there will be a larger number of support workers available to fix it, making it more likely to be resolved quickly.
Uptime Guarantees and Server Details
The servers used by HostMonster are powered by a UPS supply backed up with diesel generators to ensure they do not suffer power outages. The network is monitored 24/7 by an on-site team and the servers utilize multiple 10 Gigabit Ethernet connections to ensure that the network can maintain its connection to the worldwide web.
The HostMonster servers are part of the Endurance International Group global network structure, which has data centers located all over the world. But it is unclear where your site will be hosted.
Where Is The Company Based?
HostMonster is based in Provo, Utah, which is also listed as an EIG location. It is unclear if this is where their customers' sites are hosted, or if they are hosted at different datacenters across the EIG.
Despite this, it reassures customers that they will receive maximum guaranteed uptime, although this is not backed up in the terms and conditions. Exactly what that maximum is is unclear and there doesn't appear to be any compensation offered, should they fail to meet it.
Why Choose Hostmonster?
The HostMonster site is streamlined and clearly geared towards people who just want to get a site up and running quickly. This would be a good choice for people who are newbies or fairly self-sufficient and do not require a lot of support.
Summarizing the Benefits of HostMonster
The well-resourced knowledgebase is also a big incentive for people who want to do-it-themselves. It will be particularly useful for customers that want to learn new tricks and continually develop their site. While shared hosting is the main service, other more powerful options are available, so if you start small, you do have the ability to grow your site and remain with HostMonster.
When HostMonster Isn't a Good Fit
Endurance International is a large organization and you can be secure in the knowledge that your hosting service is not going to disappear overnight. For those who are looking for a bit more of a personalized experience, HostMonster may not be the right choice.
If you are looking to build something unique and unusual, HostMonster can work for you. You may need to pay a fee for dedicated support. If you are specifically looking for VPS or dedicated hosting services, even though HostMonster offers these services you may want to consider a hosting company that specializes in this area.
HostMonster Alternatives
Most Popular HostMonster Alternatives
Starts at: $2.75 / mo
(Billed as $2.75 Per Month)
Usual price: - Get % off!
Starts at: $2.59 / mo
(Billed as $2.59 Per Month)
Usual price: - Get % off!
Starts at: $3.95 / mo
(Billed as $3.95 Per Month)
Usual price: - Get % off!
Frequently Asked Questions About HostMonster
Have questions about HostMonster? We've got answers. Below are the most commonly asked questions about HostMonster.
What security features does HostMonster offer?
HostMonster offers a decent number of security features to keep your site secure, including Hotlink Protection, SSL support,
SiteLock
lite, SSH Access, and Spam Assassin Protection. They also offer a 10 point security checklist.
What is HostMonster's uptime? Do they offer a guarantee?
HostMonster does not appear to offer any uptime guarantees. They say that most downtime is fixed in 15 minutes or less.
What is HostMonster's refund policy?
HostMonster offers a
30-day money-back guarantee
. You will only be refunded the cost of the hosting package and does not include most add-on products including domains. If you choose a plan with a free domain, the cost of the domain will be deducted from your refund.
Browse Web Hosting Provider Reviews