Digital.com's Rating for GreenGeeks
Our Editor's rated GreenGeeks 5 / 5 based on user ratings, pricing, and features offered.
GreenGeeks: Quick Overview
The environmentally-friendly approach that GreenGeeks takes makes its services stand out from the crowded web hosting industry. Their commitment to offset used energy with 300% wind credits certainly sets the bar for other web hosts looking to go green or reduce their carbon footprint.
Whether or not you should settle for GreenGeeks ultimately depends on your budget and hosting needs plus how this company fares against the competition. Overall, GreenGeeks is an interesting choice for price, reliable server performance, competitiveness, and the green effort.
GreenGeeks customers get a lot of value for their money. Being a green energy company, some people may choose this hosting provider so they can proudly claim that their business is not creating a carbon footprint. Because you only have 30 days to claim a refund, do your own research before making any sort of firm commitment.
What Are the Pros and Cons of GreenGeeks?
So, is GreenGeeks the web-hosting provider you should choose? Before making any rash decisions, here's a list of pros and cons with regards to GreenGeeks web hosting services that you should weigh.
Pros
Scalable hosting solutions including shared, WordPress, VPS, and dedicated server packages.

Resource-rich help center

A wide range of customer support channels

Reliable uptime of up to 99.9%

Eco-friendly web hosting solutions

Free nightly backups

Free migration

Free site builder
Cons
Does not provide Windows server hosting

Dedicated and VPS hosting options are slightly pricier than other hosts

The pricing structure is slightly misleading – you must commit to a 3-year plan to get the posted price

If you take advantage of the 30 money-back guarantees, your domain name will cost more than at most other hosting providers

What Makes GreenGeeks Stand Out?
Being a green web hosting company is what sets GreenGeeks apart. And true to its environmental preservation efforts, this company takes several measures to lower its carbon footprint.
While GreenGeeks uses traditional energy resources, it purchases up to 300% wind credits to offset carbon output by its servers.
Their datacenters also use the latest servers equipped with energy-efficient hardware.
GreenGeeks Hosting Types
If you're looking for a web host that grows with your website, then GreenGeeks fits the bill. They offer scalable Linux-based hosting solutions at different price points, allowing you to upgrade server resources if your website outgrows the initial plan.
The following are details about features to expect from the various hosting solutions GreenGeeks has to offer.
Shared Hosting
The most affordable hosting option with GreenGeeks is their Lite shared hosting plan, which offers 50 GB storage, 50 email accounts, unmetered bandwidth, free SSL, free CDN, and one year of free domain registration.
Upgrading to the Pro or Premium plan would provide you with unlimited storage, unlimited email accounts, and faster performance.
VPS Hosting
If you want root access to the server or better control over computing resources, then VPS hosting is the ideal choice. With VPS hosting, you have full knowledge of how much disk space, RAM, and bandwidth are at your disposal.
GreenGeeks offers three fully managed VPS plans. The most affordable plan includes 2 GB RAM, 4 vCPU, and 50 GB SSD storage, while the most expensive plan includes 8 GB RAM, 6 vCPU, and 150 GB SSD storage.
| | 2 GB | 4 GB | 8 GB |
| --- | --- | --- | --- |
| Starting Price | $39.95/month | $59.95/month | $109.95/month |
| Memory | 2 GB RAM | 4 GB RAM | 8 GB RAM |
| SSD RAID 10 Storage | 50 GB | 75 GB | 150 GB |
| Bandwidth | 10 TB | 10 TB | 10 TB |
| Cores | 4 | 4 | 6 |
Dedicated Hosting
You can choose from four dedicated server plans. All dedicated servers from this web host offer an allowance of 10TB monthly data transfers and include 5IP addresses.
Disk space and memory vary from plan to plan but you can get a dedicated server from GreenGeeks with 2-16GB RAM and 500GB-1TB storage.
| | Entry Server | Standard Server | Elite Server | Pro Server |
| --- | --- | --- | --- | --- |
| Starting Price | $169/month | $269/month | $319/month | $439/month |
| Processor | Atom 330 | Xeon E3-1220 | Xeon E3-1230 | Xeon E5-2620 |
| Memory (DDR 3) | 2 GB | 4 GB | 8 GB | 16 GB |
| Drive (SATA) | 1x 500 GB | 2x 500 GB | 2x 500 GB | 2x 500 GB |
| IP Addresses | 5 | 5 | 5 | 5 |
| Transfer | 10 TB | 10 TB | 10 TB | 10 TB |
Is Reseller Hosting Available?
Reseller hosting is also part of GreenGeeks' comprehensive service portfolio. You can enjoy the latest speed technologies such as Solid State Drive RAID-10 Storage Array's, PHP7, Caching, CDN & more.
With a reseller account from this web host, you'll be able to rent server resources to other website owners and run your own small-scale web hosting business. You will have access to WHM to create individual cPanel accounts under your reseller hosting plan.
Reseller Features
GreenGeeks provides a license for WHMCS, which makes it easy to manage and bill multiple accounts.
GreenGeeks allows reseller account holders to offer their clients a free site builder and individual cPanel accounts. With a top-notch security service, your accounts will be secured against constant threats with their custom security rules, zero-day vulnerability, and real-time 24/7 security monitoring.
If you want to switch to GreenGeeks Reseller Hosting Plan, their migration specialists move up to 30 cPanel accounts for you, free of charge.
WordPress Optimized Hosting
GreenGeeks also offers plans that are optimized for WordPress, which include one-click WordPress installation and automatic updates, at the same prices and with the same features as their standard shared hosting plans.
All of GreenGeek's WordPress Hosting plans give you access to WP-CLI, SFTP, SSH access, Git, phpMyAdmin, a staging environment, and an option for multiple PHP versions. It offers an advanced WordPress development that utilizes SSD, the latest version of PHP, HTTP/2, and allows you access to several data centers across the globe including LiteSpeed WebServer and comes with LS Cache Plugin that enables your WordPress website to load super quick.
GreenGeeks is actively engaged within the WordPress community and is a proud Global Community Sponsor to various WordCamps around the world.
GreenGeeks Plans and Prices
GreenGeeks offers affordable hosting solutions for you to choose from; they have shared, VPS, Reseller, and WordPress hosting. Below is an overview of their plans and current price list. For the latest and most up-to-date prices visit GreenGeek's website.
Is There a Money-Back Guarantee?
Yes, they offer a 30-day money-back guarantee.
It's not a 100% refund as they will deduct the domain name cost and any set-up fees or transfer costs.
GreenGeeks Hosting Plan Features
Robust Features
GreenGeeks is unique compared to most other web hosting companies in that they allow you to contribute to making our planet cleaner and greener. But then again, most people would consider aspects such as reliability, customer support, pricing, and scope of hosting solutions when deciding whether to host a website with GreenGeeks or not.
In light of this, the following overview offers all the details you need to know in order to make an informed decision about GreenGeeks.
cPanel Control Panel
As with most Linux-based web-hosting providers, GreenGeeks provides cPanel as their primary web hosting control panel.
Included in cPanel are the Fantastico and Softaculous script installers. With these tools, you can install popular third-party blogging platforms and CMSs (content management systems) like WordPress, Joomla, and Drupal.
Moving From Another Host? Use Their Free Site Migration Services
If you have an existing website, keep in mind that GreenGeeks offers a free migration service. For those who are not tech-savvy when it comes to switching web hosts, this free site transfer is a fantastic service.
The best part is that GreenGeeks experts handle the transfer professionally so you don't have to worry about any major downtime.
Bonuses/Extras from GreenGeeks
There's no doubt that many customers opt for GreenGeeks because of their commitment to preserving the environment. However, this company also promotes its services with free features that can be just as appealing to small businesses as their green web hosting solutions.
Check the list below for more detailed information on the kind of freebies to expect from GreenGeeks.
Free Domain Name For One Year
For the initial term of your annual contract, GreenGeeks does not charge you anything to register for a new domain name or transfer an existing one from a different registrar. You'll need to pay for your domain after that first year, though.
Hassle-Free Site Migration Service
Thanks to this service, GreenGeeks promises to migrate your existing website to their servers at no added cost and with little-to-no downtime. This leaves the small business owner free to focus on business, rather than getting into the technical details.
Create a New Website With the Free Website Builder
Newbies will be glad to know that GreenGeeks offers a free website builder that is easy to use yet powerful. You can choose from hundreds of fully customizable templates in dozens of categories. There are also responsive themes designed for mobile devices as well as SEO tools that will allow your website to be indexed easily on Google Search.
Boost Brand Awareness With Free Advertising Credits
Free advertising credits to launch your first Google AdWords PPC campaign.
How Is GreenGeeks' Performance and Uptime?
Consistent with the industry standard for uptime guarantee, GreenGeeks claims that their servers will always be available 99.99% of the time.
Although the company seems confident enough to include the 99.9% uptime commitment in their service level agreement, they make no mention of whether customers would receive a refund in case that guarantee is not met.
Other web hosting companies offer to refund hosting credit for any month that experiences major downtime that was not caused by scheduled maintenance.
GreenGeeks Servers: Advanced Technology
When it comes to performance, GreenGeeks does not make any compromises regardless of the hosting plan being offered.
All servers run on quad-core processors and Solid-State Drive Accelerated RAID-10 local arrays that allow for fast website performance and reliability.
In addition, GreenGeeks datacenters remain under restricted access and they are served with UPS systems to mitigate power failures.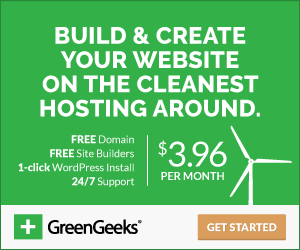 How Does GreenGeeks Keep Your Site Secure?
Hosting a secure website is achievable with GreenGeeks thanks to the security measures they've taken to protect all data hosted at their facilities.
Every GreenGeeks server is under a 24/7 monitoring service that deploys firewall systems to thwart hacking attempts as well as brute force and DDoS protection against known vulnerabilities.
With VPS hosting plans, you can blacklist suspicious IP addresses. GreenGeeks also offers a free Spam Assassin tool to protect email accounts.
You can keep your data secure with the use of password-protected directories, SSL site encryption (at an added cost), and by ensuring to keep all software installed on your server up to date.
Does GreenGeeks Handle Site Backups?
GreenGeeks conducts disaster recovery backups every night. This free service is available on all shared, VPS, and reseller hosting plans. Users get one free restoration per month, but any additional restores will incur a surcharge.
How Is GreenGeeks' Help and Support?
Good customer support is one of the strong suits of any serious web hosting company. GreenGeeks knows this all too well, and that is why they offer multiple methods to assist their customers or anyone interested in using their services.
If you want direct assistance, the support team can be reached via email, phone, or live chat.
Yes, There's Phone Support
Phone supportis available during business hours (9 AM to 12 AM EST Mon-Fri and 9 AM to 8 PM EST on weekends), but customer support agents may be reached on live chat 24/7/365.
In addition, GreenGeeks claims to deliver wait times of about 15-20 minutes when you contact them via email.
Does GreenGeeks Offer Forum Support?
There's no forum support, but GreenGeeks does have an online Help Center that includes a searchable knowledge base and FAQs to help users troubleshoot common web hosting problems.
There is also an Education Center on the GreenGeeks website, where you can find plenty of tutorials, videos, and helpful articles.
How-Tos for Small Business Owners
GreenGeeks also provides information helpful to those planning on launching a small business. This information covers topics like "How to Start an Online Store" and "How to Start a Blog."
Frequently updated with industry-related content, the GreenGeeks blog also adds to the wealth of information that you get from this web host on how to run a successful website.
What Are Some Good Alternatives to GreenGeeks
GreenGeeks provides high quality and affordable website hosting, however, the best GreenGeeks alternatives are:
Web Hosting Hub Review
Site5 Review
A Small Orange Review
Bluehost Review
Who Is GreenGeeks the Company?
Californian IT expert and current owner, Trey Gardner, founded GreenGeeks in 2008. Today, the company has more than 50,000 customers and hosts 600,000+ websites.
The company has also become a powerful green energy hosting business. More than 615,000 Kwh/per annum of energy is replaced by green power in the form of wind energy created from the wind power produced by GreenGeeks.
This company has a long list of awards and nominations for being one of America's top hosting companies and for becoming a fully-fledged eco-friendly company, thanks to carbon negative output provided by their wind energy which is used everywhere within their company.
GreenGeeks is committed to only using wind power to run its operating centers and to maintain its strict policy of being green. They use a massive amount of power and they didn't want their involvement in the hosting industry to be a major contributor towards being one of the world's biggest polluters, alongside the airline industry.
GreenGeeks has a dual-edged mission: to offer first-class web hosting services and by setting a fine example of deliberate environmental responsibility through the use of wind energy.
3411 Silverside Rd. Tatnall Building #104, Wilmington, DE 19810 USA
877 326 7483
Founded by Trey Gardner in 2008.
It's obvious from their name that GreenGeeks values environmental responsibility. They are proud of saying they are "300% powered by renewable energy." If you're scratching your head at the math involved, it simply means that GreenGeeks actually returns three times the wind power credits than they use — about 600,000 kilowatt-hours per year.
In fact, GreenGeeks is one of the most impressive businesses in any industry when it comes to sustainability. According to the EPA's Green Power Partner List, GreenGeeks is the #1 web host and #2 overall company in green power percentage of total electricity use.
Beyond a net positive carbon footprint, GreenGeeks is no slouch as a web host. They're small compared to some other hosting companies, with 50,000+ customers and 600,000+ sites hosted, but they make up for it with feature-rich plans and excellent customer support.

With GreenGeeks, your website helps create renewable energy instead of soaking it up. So if sustainability is one of your priorities along with good value and great support, you should add GreenGeeks to your shortlist.
If you choose GreenGeeks, and if protecting the environment also resonates with your small business's target market, don't forget to let them know that your website is powered by 100% carbon-neutral hosting. This might encourage more people to take that same step.
Frequently Asked Questions About

GreenGeeks
Who Owns GreenGeeks?
GreenGeeks is a privately owned company with a management team that combined has over 40 years of experience in the web hosting industry. Their headquarters is located in Santa Monica, California, United States.
What Are GreenGeeks Nameservers?
If you have a domain name that is not registered with GreenGeeks, and to get your website to work you need to change the domain name's DNS to GreenGeeks nameservers; these are: ns1.greengeeks.com and ns2.greengeeks.com.
What Kind of Support Do I Get With GreenGeeks?
GreenGeeks offers 24/7/365 support via email and live chat. Phone support is also available but only from 9 am-midnight Monday to Friday and 9 am – 8 pm EST on the weekends.
What Languages Does GreenGeeks Support Speak?
All of GreenGeeks support staff speak fluent English.
Where are GreenGeeks servers located?
GreenGeeks have multiple data center locations. They have servers in Chicago (United States), Phoenix (United States), Toronto (Canada) and Amsterdam (Netherlands).
What Is GreenGeeks Cheapest Hosting Plan?
GreenGeeks cheapest plan is their Lite shared hosting package, which costs $2.49 per month.
Can I Register Domain Names With GreenGeeks?
GreenGeeks will register or transfer your domain name
free of charge
as part of your web hosting package.
Can I Install WordPress?
WordPress installation is included via GreenGeeks one-click installation tool. You will gain access to over 150+ ready to install applications like WordPress with a single click.
Which Greengeeks Plan Is Best for WordPress?
GreenGeeks offers custom WordPress hosting solutions complete with a 1-click installer, automatic updates, real-time security scanning, brute force, and DDoS protection plus lots more.
Compare Popular Web Hosting Plans
Need a great web host? Want to save some time? This shortlist is your best place to begin:
Popular Host Choice for 2022
Browse Web Hosting Provider Reviews